Outdoor Accessories to Help Keep You Cool this Summer 
Jun 16, 2018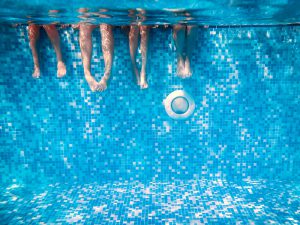 Summer is finally here. For many of us, summer is one of our favorite seasons and is very much anticipated. Summer means BBQ's, pool parties, summer camp, and great times with family and friends. However, if you live in Texas, you also know that Texas brings on the heat, and we end up spending most of our summer just trying to stay cool. The good news is that there are a lot of accessories for your backyard that you can utilize to help you stay cool this summer.
#1 Glacier Pool Cooler
One of the most troubling encounters we have here as pool owners in Texas is that after a few weeks of summer, our pool seems to become not-so-refreshing anymore. As the temperature rises outside, our pools tend to heat up as well. And jumping into a warm pool isn't so refreshing when you are trying to escape the 100-degree weather.
Luckily, there are new innovative inventions out there to help keep your pool cool, and one of those is the Glacier Pool Cooler. In residential pools, it can decrease the water temperature from about 10 to 15 degrees in 12 to 15 hours and offers various temperature controls. It's energy efficient and runs alongside your pool pump and system. Check it out by clicking here.
#2 Outdoor water features
By adding water features to your pool, it will be even easier to stay cool this summer. An additional bonus is how beautiful they are when added to your swimming pool. From fountains to waterfalls, aerated water features will not only enhance the aesthetic appearance of your backyard but the way it feels as well.
#3 Outdoor hose misting system
If you are considering a misting system for your backyard, consider purchasing a misting hose. You will be granted with the ability to install it in a variety of methods. You can have the hose attached to an umbrella, a gondola or veranda, your fence, etc., and it will be sure to help keep you cooler this summer. You will be amazed how much the temperature drops with a misting system installed. Check one out by clicking here.
#4 Outdoor fan misting system
If you want to take your misting system up another notch, you should consider purchasing a misting fan. Misting fans are great because they keep the mist moving so you don't feel overwhelmed by the moisture, but still feel an enjoyable breeze.
We know how much you love your backyard and enjoying it this summer means keeping cool! If you have more pool questions, here at Mid City Custom Pools, we would be happy to help you answer them. Contact our trusted pool company in Trophy Club today.