What to Expect During Your First Meeting with Your Pool Builder
Jul 31, 2020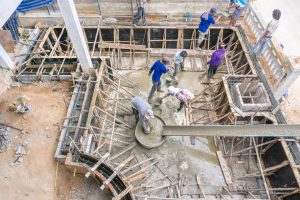 First Meetings with Pool Builders are Important
Once you have made the decision to add a custom pool to your backyard, it is time to meet with an experienced pool builder, such as the ones at Mid City Custom Pools. It's a good thing to keep in mind that building a pool at certain points of the year may make it easier to build your pool faster and without as many delays, which might play a role in your decision to build a pool. However, the process of building a pool is typically always the same. The first step in this process is to meet with a trusted and experienced pool builder.
In this first step, you and your pool builder will discuss many things that are critical to the construction process of your pool, including its design. These initial meetings can be daunting and a little overwhelming if you have no experience being a pool owner or building a pool. A lot goes into pool construction, so there is plenty you and your pool builder will need to discuss to plan and start building your pool.
We understand how exciting it is to begin building a pool. While it's a big step for any homeowner, it can also be a stressful one. After all, your backyard will be under construction for several weeks. However, your first meeting with your pool builder can help ease any anxieties you may have. Mid City Custom Pools understands the excitement that goes into building a new pool, which is why today we will be discussing what to expect during your initial visit with a pool builder.
What to Expect
As we said earlier, there are a lot of things that are initially discussed during your first meeting with your pool builder. Without this first step, a pool builder will not have the necessary information to build your pool efficiently. However, for those with no pool building or pool owning experience, they might have no idea what to expect during this initial meeting. Mid City Custom Pools understands the importance of these meetings, which is why we are here to provide you with some insight.
Design
Designing your pool is one of the first things you and your pool builder will discuss during your initial visit. Your pool builder may ask to see your backyard to get an idea of the size they are working with and what design will look the best in the space provided. Whether you want a traditional geometric swimming pool or a modern free form pool, your pool builder will help you decide during your first meeting.
Additionally, if you are interested in other amenities, such as an attached spa, water feature, or an outdoor living space, our pool builders will go over all the details for them and how they would affect your construction timeline. Once you and your pool builder have settled on a design, they can survey your property to begin construction.
The pool builders at Mid City Custom Pools will walk you through the process of pool construction, explaining the steps and how long the process should take. Delays, such as weather, can and do happen, which is why all builders will remind you of this to temper any expectations.
Permits
Before any construction can begin, builders have to acquire all of the necessary permits and approvals. Your pool builder will let you know that acquiring these permits may take some time and could delay the start date of construction. Permits for gas, electricity, and all other utilities will be acquired by those contracted to do said work, while your builder will get the rest of the permits and approvals. However, as the homeowner, you will need to get approval from the Homeowners Association (HOA) on your own.
Questions to Ask
Every future pool owner is going to have questions regarding the building of their pool and everything that goes with it. While many of them will be answered by your builder without you ever needing to ask a question, there are countless that go unanswered. Here are some useful questions to ask your pool builder to quell your worries:
Who is in charge? The person you initially meet may not be the same person running the installation. Ask who is in charge, so you can get to know them and their experience level.
What is the tentative timeline? It's good to get an idea of how long construction may last without any delays. However, expect delays to temper your expectations.
How many years of experience does your team have?
What is the estimated cost of the project? Once you've settled on a design and style, your builder will be able to provide you with a more accurate estimate.
Could there be any unforeseen expenses?
Are you licensed and insured?
Can I add any other features during the construction of my pool? Ask your pool builder about other features they can add to enhance your custom swimming pool.
Do you utilize subcontractors? If so, can I speak with them?
How will the project impact my yard and landscaping?
What practices do you follow that separate you from the competition?
These are just a handful of useful questions you can bring with you during your initial meeting with a pool builder. They will help ease any concerns you may have while providing you with some clarity surrounding your pool installation.
Contact the Premier DFW Pool Builders
If you are a homeowner and you want to transform your backyard into your own personal oasis, the expert pool builders at Mid City Custom Pools are here to help. Whether you want just a swimming pool, a spa, water feature, fire feature, or an outdoor living space, we are here to help. With decades of experience helping homeowners across the area, we have the experience and skill necessary to make a quality swimming pool for you. Give us a call to get started!