Summer Swimming Pool Safety Tips
Jul 31, 2018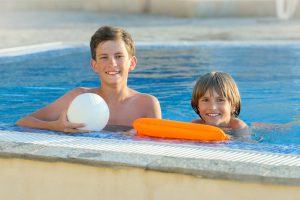 We love the summer time as it's a fun season full of backyard barbeques, pool parties, friends and family spending quality time together. During the summer season, we spend more time in our backyards by the pool and in the pool but unfortunately, pools do have certain safety hazards, especially for our kids. While spending so much time in our backyards, it is important to remember to follow various swimming pool safety tips to keep our loved ones safe by the water.
According to the National Safety Council (NSC), in 2016, more than 3,700 people drowned in the United States. Risks of drowning are even more prevalent among young children and toddlers. According to other statistics for the year 2016, drowning was the leading cause of preventable death for children ages 1 to 4 years old.
In order to keep your family and loved ones safe this summer follow these safety tips:
Secure your pool with a fence
The first and foremost best safety precaution if you have young children around is securing your pool area with a fence. This way, if children are playing outside you have less to worry about; knowing they can't access the water or fall in. This even gives you security for when you are inside perhaps busy with something, knowing that even if children get into the backyard, they are safe from the pool.
Keep your children under supervision at all times
One of the surest ways to ensure that your children are safe is simply to keep a close eye on them always when you are by the water. It only takes a minute for a child to escape your attention and fall into a body of water and drown.
You should have strict rules for the pool area as it can be a hazardous environment otherwise. Make sure to enforce rules such as the following:
Do not run near the pool
No roughhousing around the pool (pushing into the pool, etc.)
Do not dive in the shallow water
No swimming unless an adult is present
Keep a first aid kit nearby
It is a good idea to have a first aid kit on hand near the pool. You may even want to consider a life ring or life hook to help pull people to safety if they find themselves struggling in the water.
Store your pool chemicals safely
Pool chemicals are an important part of pool care and safety, but they also can be hazardous if they are handled improperly. Make sure to keep pool chemicals away and stored out of reach in a well-ventilated area.
If you have children it can always be helpful to know CPR. This is especially prevalent if you have a pool. You'll feel safer knowing you're capable.
Teach your kids how to swim
It is very important to teach your children how to swim at a young age. This will ensure that if they do fall in the water unsupervised they will have an idea how to get out, etc. Although it is best to start them young, it is never too late to learn how to swim!
As swimming pool experts, we know that safety always comes first. Here at Mid City Custom Pools, we specialize in building custom swimming pools that will keep you and your family smiling all year long. If you have questions about building an inground pool in Trophy Club, please don't hesitate to contact us today.