Pool Trends to Look Out For in 2021
Dec 17, 2020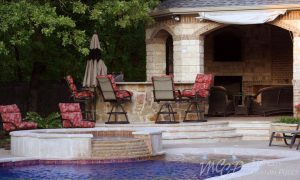 New Pool Trends Emerge Each Year
With 2020 coming to a close, it's time for us to set our sights on 2021. 2020 has a challenging year for many people, even the expert pool builders at Mid City Custom Pools. The global pandemic impacted our business operations and often led to many delays in pool construction. Regardless, through it all, we were still able to provide our customers with the pools of their dreams.
As is the case with every year, new pool trends emerge among pool builders and homeowners alike. Even with everything going on, 2020 saw its fair share of new and exciting pool trends. These new styles and technologies dictated how pools were built and how they looked.
As we head into 2021, there are several upcoming pool trends to keep an eye on that will help guide pool builders and homeowners in creating new and exciting pools. Mid City Custom Pools has been providing homeowners throughout the DFW area with world-class swimming pools for decades. We pride ourselves on staying in the know when it comes to pool design. If you are a homeowner and are ready to transform your backyard, give us a call today.
Tile Inlay
While people do build swimming pools with the purpose of using them to have fun, relax, or exercise, they still expect their pool to look good. After all, an aesthetically pleasing swimming pool attracts more eyes to it. A carefully thought-out design could be the difference between your pool looking like it belongs in a luxury resort or looking like an oversized bathtub.
2021 appears to be the year where tile inlay becomes wildly popular. Using tile inlay on the wall surfaces of your pool creates a stunning visual for homeowners and their guests. With tile inlay, you can transform your swimming pool into something truly unique, something that refreshes your backyard.
What makes tile inlay even more desirable is the fact that you have a myriad of options to choose from, whether that be color, tile shape, and design.
Polymer Walls
Much like tile inlay, polymer walls are a pool trend that aims to strengthen pool design while offering a unique aesthetic for your outdoor amenity. Polymer walls are made of a non-corrosive material, ensuring that they are strong and sturdy. These walls will not rust, corrode, or dent. They are also much lighter than their steel wall counterparts, meaning they are easier to maneuver during pool construction.
Polymer walls will give your pool a unique look, adding to the elegance of your backyard oasis.
LED Lights
When people think of pool lights, they imagine single spotlights placed on wall surfaces, which hardly illuminate the entire pool. However, these lights have evolved over the years. LED lights continue to grow in popularity, with many people predicting these lights to be one of the most popular pool trends in 2021 and beyond.
These lights give pool owners much more customization than before. You can choose between a host of color options, as well as adjust their brightness. LED lights are also far more durable and use less energy and heat than traditional lights. On top of that, they also have a much cheaper usage cost. Why wouldn't these lights trend in 2021?!
Lounge Ledges
While no one was expecting 2020 to go the way it did, it caused many people to think about what they can and can't do at their home. The pandemic forced everyone to stay in their homes and avoid going out unless it was essential. People soon figured out that they lacked a way to relax and decompress. While lounge ledges have always been popular, we expect these additions to see a surge in 2021.
Lounge ledges are small areas on the edge of your pool with very shallow water that typically only reaches your ankles. These ledges usually come with lounge chairs that let you relax, soak up the sun, and still enjoy the cooling effects of water.
If 2020 is any indication, people might be spending more time at home in 2021. Lounge ledges give you a space to experience the lavishness of a resort without needing to leave your home.
Pool Bars
Similar to lounge ledges, pool bars give homeowners a chance to transform their backyard into their own personal oasis. 2020 kept many people in their homes to keep them safe from COVID-19. While it was a stressful year, amenities like swimming pools helped ease the situation.
Pool bars (paired with lounge ledges) can give you the opportunity to create the ultimate staycation that feels like a luxurious resort. Additionally, these pool bars give you the perfect space to entertain guests. We expect pool bars to see an uptick in 2021.
Small Pools
Not everyone has the space to build a large pool. However, as this past year has taught us, many people don't have too many options at their home to keep them entertained or to help them relax. A pool is the ultimate amenity for relaxation and fun, but many people believe that their yard is too small to fit a pool.
However, it's a common misconception that you need a big yard to build a swimming pool. Just because your yard isn't huge doesn't mean you can't have one of your own. You only need to carefully and strategically plan how big you want it and where you want to put it.
A pool doesn't need to be big to reap its benefits. Furthermore, a small swimming pool might look better in your yard than a big one. It's all about careful planning. But when it comes to 2021 pool trends, keep an eye out for small pools.
Outdoor Living Areas
While not necessarily a pool trend, more and more homeowners want to expand their outdoor living spaces with more entertaining capabilities. We can expect more and more people to build updated and extended outdoor living areas. These spaces often have fully functioning kitchens, comfortable seating, covered dining areas, and more.
Much like the pool bars and lounge ledges, these outdoor living areas give homeowners a place to entertain guests, regardless of the time of year. People want to be able to enjoy luxury without leaving their homes, which is exactly what these outdoor living areas offer.
With every new year comes new pool trends. One reason Mid City Custom Pools continues to be the premier DFW pool builder is our ability to stay up to date on all the upcoming trends in the world of swimming pools. We use this knowledge along with our experience and skills to bring our customers' dreams to life. Contact Mid City Custom Pools today, and let's get started on your dream pool.