How To Throw The Perfect End of Summer Pool Party
Aug 07, 2018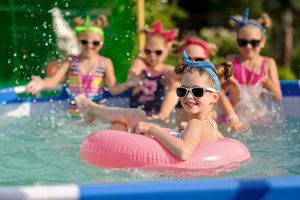 It is that time of year again where summer is coming to an end and it is time to leave the summer fun behind and prepare for the responsibilities of fall. That doesn't mean that there isn't time for one more summer celebration. August is the month that you are trying to get all the time you can out of your swimming pool in trophy club while the weather is still hot, which makes it the perfect time to throw an end of summer pool party. With a good idea, maybe a theme, a bit of planning, some good friends, and some supplies you can easily put together the perfect end of summer pool party. Here are some cool ideas to make your pool party perfect.
#1 Set up an ice cream bar
Everyone loves ice cream, especially on a hot summer's day. Set up a table covered in a colorful cloth with all your basic flavors, vanilla, chocolate, and strawberry. Grab some colorful bowls and fill them up with various toppings, fruits, sprinkles, nuts, and candies and you're set. The ice cream bar will not only be a hit with the kids but all the adults as well.
#2 Pick up some super fun pool floats
Pool floats are a great way to make your pool party instantly more festive, and lately awesome pool float designs have become very popular. Grab some donut and unicorn floats for you to relax on or for the kids to play with. We guarantee they will also make for some great pictures.
#3 Set up a build-your-own drink bar
Just like the ice cream bar, but only for the parents. While the kids are playing in the pool, the parents can hang out at the build-your-own drink bar. Just pick up some cool cups, your basic liquors, vodka, gin, tequila, or whatever you desire, your mixers, some fresh fruit, and even thrown in some neatly-shaped ice cubes. Research some cool summer drink ideas ahead of time to get a better idea of what drink supplies to pick up at the store.
#4 Pool balloons
Pool balloons look awesome and a great addition for the kids. Grab some different colored balloons that go great with your color scheme, blow them up, and throw them in the pool.
#5 Set up a make-your-own koozie station
Pick up some blank white rubber koozies, some colorful sharpies, set up a table, and let your guests make their own koozies. The drinks will stay cold and no one will lose or mix up their drinks at the party.
#6 Bring water guns
Have your guests bring water guns. The kids will have a blast, and some parents may get involved too.
#7 Grab your polaroid camera
Pick up a Polaroid camera for the party. Your guests will love it and it will make for some great memories.
#8 Flash tattoos
Everyone loves flash tattoos. Grab some temporary glittery tattoos, cut them out, and throw them into a bowl for your guests to grab from.
It's difficult to throw a pool party without a pool, in which you may need a pool builder in Trophy Club. Let Mid City Custom Pools help you build the pool of your dreams or renovate yours to become the pool of your dreams. If you have any questions or would like to schedule a consultation with our team please don't hesitate to contact us today.